Our Inspired Year Monthly Goal Workbook + Weekly Notepad Bundle combines our new weekly notepad with the monthly version of the Inspired Year Planner. Use our Weekly Notepad to prioritize the big picture...
Learn More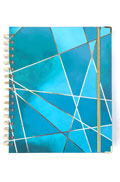 HARDCOVER GUIDED WRITING JOURNAL FOR HEART-CENTERED GOAL-SETTING30 days of writing prompts for reflection on your passions, purpose, and reconnecting with your heart, to help you set goals that matter, get creative...
Learn More
Our Ideas & Inspiration Workbook + Passion & Purpose Writing Journal + Notepad Bundle makes for great inspiration and purposeful action to build your creative business.  Passion & Purpose Writing Journal Hardcover https://www.1lovepaper.com/products/passion-purpose-writing-journal-hardcover Writing...
Learn More